As we enter a new calendar year many of us take the opportunity to review the past year and set some goals for the year ahead. The internet and social media are filled with offers of free and paid goal setting systems and courses and links to the newest planner or journaling method to assure success in keeping our new year's resolutions this time even though we may have failed in the past. 
I'm sure you're all familiar with the depressing statistics regarding New Year's resolutions. Wikipedia says, "A 2007 study by Richard Wiseman from the University of Bristol involving 3,000 people showed that 88% of those who set New Year resolutions fail,[11] despite the fact that 52% of the study's participants were confident of success at the beginning."
88% of New Year's resolutions fail.
An 88% failure rate! That is pretty astounding actually. Why do we fail so spectacularly when we are setting goals that we say we really want? Studies show that there are quite a number of reasons we say why we don't succeed in our New Year's resolutions.
One reason is that we set unrealistic goals. Goals that are just too big and unattainable in the time period or with the resources at hand. Another is that we don't measure and track our progress. Some say that they totally forget about their resolutions and others admit to making way too many new year's resolutions. I think I have been guilty of all of these reasons/excuses in the past.
Common reasons why New Year's resolutions fail:

– We set unrealistic goals
– We don't measure and track our progress
– We forget about them
– We set too many
There are many goal setting models that we can use to create and track our goals. This post is specifically about the K.I.S.S method – Keep It Simple Stupid. I first heard about this method on the Lead to Win podcast by Michael Hyatt – episode #053.
The K.I.S.S. method of goal setting is about asking yourself 4 questions based on the previous year.
1 – What do you want to keep doing?
2 – What do you want to improve?
3 – What do you want to stop?
4 – What do you want to start?
For first-time goal-setters, this may be the easiest way to start. 
What are your goals for the coming year? Let me know in the comments below.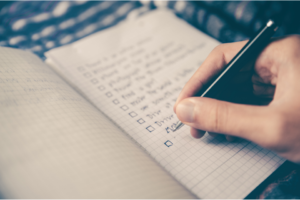 Sign up to the newsletter to stay up to date with how I'm going with my goals and projects and other news.
Subscribe to the newsletter
Latest posts by Megan Ruffino
(see all)